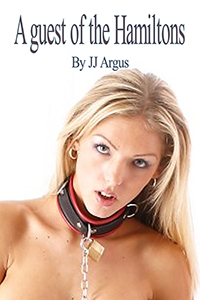 Ebook Price
$5.95
A Guest Of The Hamiltons
(Argus)
STORY DESCRIPTION
Paige's roommate at university is a sophisticated, sexy English girl who lives in a castle! Charlotte soon teaches the lovely blonde from California a thing or two about her body, not to mention the dark thrill of submission! When Paige goes home for vacation to Charlotte's family estate she is delighted, shocked, and filled with dark excitement. The castle has a dungeon! And, quite coincidentally at first, or so it seems, Charlotte, her handsome brother Charles, and their stern father Lord Hamilton all separately begin to draw her deeper into the passion and pleasure of sexual submission, obedience and slavery. Be it in the dark, candlelit darkness of the dungeon or the vaulted ceilings of the great rooms and halls, Paige becomes overwhelmed by the outrageous heat they arouse within her!
No. words: 35600 We do not recommend this book for readers under 18 years of age
Style: Male Dom - M/F
Available Formats: MOBI EPUB MS Word PDF MS Reader Text RTF
Click Here To Read An Excerpt from A Guest Of The Hamiltons
Product type: EBook
Published: 1 / 2018
Keywords - click on word to search for more titles
Argus male domination female submission erotica
Author Information
Argus is a man with long experience and credits in the publishing world. He has had almost two hundred novels published in the United Kingdom and The United States, by such publishers as Beeline, Star, Nexus, Chimera, Silver Moon, and Olympia. He has also been published in dozens of magazines.