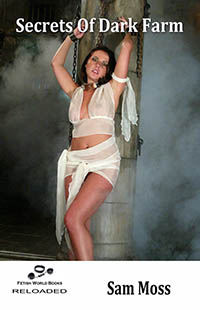 Ebook Price
$5.95
Paperback price
$7.69
Poor character development and little action. A rather weak effort.  1
out of 5

totally disappointment!   1 out of 5

Extremely disappointing and boring. Lots of torture scenes with
elaborate descriptions of bondage, but there wasn't much erotic to any
of it - just one brutal torture after another.  2 out of 5
Secrets of Dark Farm
(Sam Moss)
STORY DESCRIPTION
The farm was isolated, away from prying eyes, which was just as well. Phil Blake did not want the community to know that he had both his wife Andrea and sister-in-law Lizzie as his sex slaves. Nor did he want anyone to know about the stray hitch-hikers and ramblers he enticed into his cellar of pain!

There is a tunnel from the cellar leading to a long buried monastery where there is yet more pain awaiting the unwary.

Phil is a master of bondage and suffering, concocting the most incredible ordeals for those who cross his path.

Melanie is appointed as community psychiatric worker to the family when Phil is caught trying to kidnap yet another woman but before she knows what is happening, she is entrapped by the conniving lesbian Lizzie and ends up in the cellar, tortured beyond belief and yet finding sexual pleasure in the pain she suffers, as much as she finds overwhelming satisfaction in the love affair she begins with the insatiable slave!

Extreme bondage and suffering, inexhaustible nymphomaniac lovers and agony are the hallmarks of this book.

Do not buy it if you are at all squeamish!
No. words: 32300 We do not recommend this book for readers under 18 years of age
Style: Male Dom - M/F, Sex Slavery / Training
Available Formats: MOBI EPUB MS Word PDF MS Reader Text RTF
Click Here To Read An Excerpt from Secrets of Dark Farm
Product type: EBook
Published: 2 / 2018
Keywords - click on word to search for more titles
Author Information
a BDSM writer with an exceptionally vivid imagination!