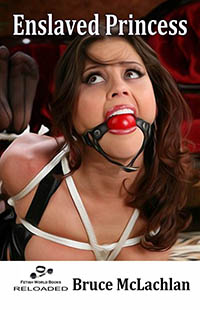 Ebook Price
$5.95
Paperback price
$7.69
Enslaved Princess
(Bruce McLachlan)
STORY DESCRIPTION
Princess Khamsin is on her way to an arranged marriage when her ship is overpowered by raiders. The unfortunate Princess, her entourage and the entire crew are taken captive and shipped to the raiders' stronghold. There, despite her royal status, the Princess suffers the fate of all beautiful, captured women at the hands of these savage people.

Kept naked, made to suffer and sexually used over and over again, her pain is much, her dignity eventually totally destroyed.

A saga of depravity and bondage; of a future land where sadism rules and slaves suffer unspeakably.

The Princessís new trainers are masters of bondage and have countless devices to help them break a slaveís will and render them obedient and servile.

No. words: 30800 We do not recommend this book for readers under 18 years of age
Style: Male Dom - M/F, Sex Slavery / Training
Available Formats: MOBI EPUB MS Word PDF MS Reader Text RTF
Click Here To Read An Excerpt from Enslaved Princess
Product type: EBook
Published: 2 / 2018
Keywords - click on word to search for more titles
Author Information
Aliens, strange worlds, fetish based writing.