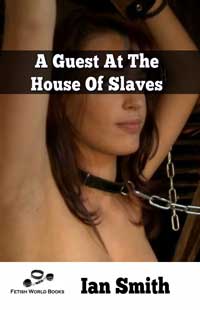 Ebook Price
$6.50
Paperback price
$7.96
A Guest At The House Of Slaves
(Ian Smith)
STORY DESCRIPTION
Harry Evans is in the right place at the right time to rescue a stranger from a gang of muggers. When he drives the man back to his expensive hotel, he is embarrassed to see the CP magazine he has in the car has been noticed. The man offers Harry a reward he cannot turn down, a weekend in his private retreat in Scotland, with a nod toward the magazine. Harry cannot resist, and walks into a virtual paradise, a place where six women are held 'captive' for various reasons, all enslaved to Mr Roger Proby, the man Harry rescued and the owner of the mansion. Harry has a weekend of sex, slavery, pony carting and outright pleasure - with a hint of more to come!
No. words: 40000 We do not recommend this book for readers under 18 years of age
Style: Male Dom - M/F, Sex Slavery / Training
Available Formats: Palm MOBI EPUB Sony Reader (LRF) ;MS Word PDF MS Reader Text RTF
Click Here To Read An Excerpt from A Guest At The House Of Slaves
Product type: EBook
Published: 9 / 2011
Keywords - click on word to search for more titles
Author Information
Ian Smith was ordering books by Victor Bruno from Olympia when he saw their advert for authors and sent in a sample script. His first book, "The Wench Whackers' Ball" - later retitled "Ali, Slavegirl Incarnate" - was published less than three months later. Now, ten years later, he has written and seen published over twenty books.
A keen writer since childhood (and now in his forties), Ian enjoys trying to project the feelings of innocent girls caught up in fantastic and daunting circumstances. Sometimes he starts with a planned outline of a book, but often with just a single idea which develops along the way. Some of his books run in series, with recurring characters, others are one-offs.
Ian always has at least half a dozen ideas for more books and gradually those ideas are turned into reality. But then some more ideas turn up ...